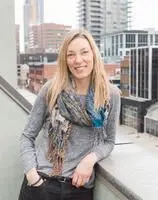 I have always valued opportunities to connect with others in meaningful ways. My passion is in working with people experiencing a variety of life, health, and career challenges and transitions. I strive to help people learn how to cultivate a healthier relationship with themselves, and with those closest to them, with the goal ultimately of helping people live a more satisfying life.
I completed my Master of Education degree in counselling psychology through the University of Calgary in 2005, and have been a registered psychologist since 2007. I have worked as a counselling psychologist in private practice on a part-time basis, and in 2012, started part-time at a multi-disciplinary collaborative health clinic. Earlier in my counselling career, I trained and practiced in post-secondary counselling centres at the University of Calgary and SAIT Polytechnic. I am a member of The College of Alberta Psychologists and The Psychologists' Association of Alberta.
My love of life-long learning and passion for providing quality care has prompted me to engage in ongoing training programs including The Hakomi method, Bodynamic, and Emotionally-Focused Couple Therapy. I am particularly interested in experiential approaches and how our developmental experiences and past traumas can influence and shape current functioning. I have studied and regularly practice mindfulness meditation and the use of mindfulness skills in therapy. My approach incorporates these principles into my therapeutic work.
My areas of interest and practice include: coping with depression, anxiety issues, relationship challenges and how to create healthier connections, improving communication, facilitating self-development and growth, anger management, bettering self esteem, developing self-management skills, dealing with trauma and abuse, handling periods of transition, managing grief and loss, recovering from burnout, career planning, and counselling men.
In my spare time, I enjoy practicing yoga with my partner. As an introvert, I also enjoy opportunities to experience the restorative quiet of nature.